This is my storage… I' ve gone through several
variations and this is by far my favorite.
(Storage cemetery at the bottom of this page.)
Click any pic for a closer look.
I'd love for you to leave your questions or comments here or in my cbox.
I still get PM's via the Cricut MB but I just don't
frequent the MB as often as I used to so my responses may take a week or so.
Because I use DS it's rare that I reference the books so I keep my
carts and tools in one set and my books and overlays in another.
I sort my carts alphabetically and leave a space between all letters.
(see pic mid page)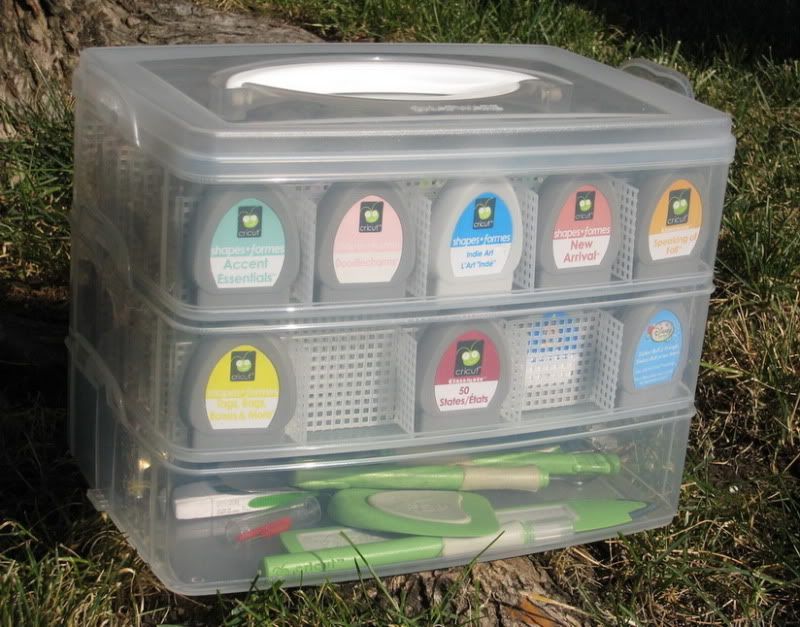 Sightings of the Snapware Ribbon Holder have been at J's,
M's, Lowes, Office Max & Ross. I preferred an all clear lid so I bought
3 units from The Container Store. (A unit is 1 small bottom and
1 large top.) They were $15 in store last year when I bought mine
but they are now $11. Some with colored lids have been
purchased for as low as $1 a unit! I have a few of the colored lid units
for other things but I have noticed that you get what you pay for…
some of the cheaper units I've purchased do not feel as secure as
the more expensive units I initially bought at TCS and
they sometimes give me trouble when I try to close them.
IMO, not worth going cheap.
This neatly organizes 40 carts in a single small layer of the holder
and up to 15 books/overlays in each of the larger compartments.
I have my foreign languages removed and use the bottom
compartment for tools and markers.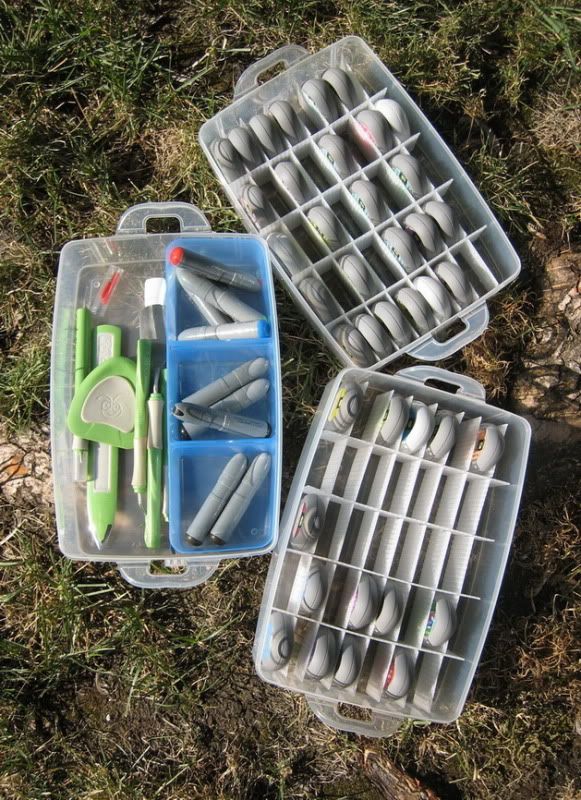 KarenL.Jenter
from the CMB took it a step further and added a
luggage strap for additional strength. I found these pink with heart dog
collars in the Target $1 bin and they work great.
The dividers are made of Plastic Canvas. Plastic Canvas comes in a
6 pack of 10.5×13.5 mats at WM for $1.97. Although I have never seen any
size other than what I use,
It comes in 4 sizes:
5 holes to the inch, 7 holes to the inch, 10 holes to the inch, and
14 holes to the inch.
I use and provide cut dimensions
for 7 holes to the inch.
Out of a single package I
have made 2 sets for myself and 2 as gifts and I probably have enough
to make 1 more (5 total = storage dividers for 400 carts – lol!.)
I've also seen colored Plastic Canvas sold in single sheets at Joann's.
7 strips of 59×10 (# of holes)
Cut 5 deep @ 12, 24, 36, 48
4 strips of 39×10 (#of holes)
Cut 6 deep @ 5, 10, 15, 20, 25, 30 & 35
59×10: You should see 59 rows by 10 rows so you're
cutting at 60 and 11. The same for 39×10.
Any questions, please just ask!
Enjoy!!
If you would like to order a set please leave a comment
here or in my cbox (to the right) and I'll get back to you.
I will make for you for $5 plus ship & handling.

Cricut Storage Cemetery
Original Boxes
Unless you have enough room to house these they're just way too bulky
to store as-is. Not to mention the hassle of having to locate and open a box
every time you want a different cart or to look at a book – just too much work
if you ask me. Even with DS I wouldn't want to take up any room in my craft area
to store these in their original packaging. AND, if you have any solution carts
you have to buy boxes because they come in the disposable plastic cases…
waste of time and again, money and space that could be used on other
crafting supplies. (I sell my boxes so if this is your preferred method…
keep an eye out here for sales on empty boxes.)
Scrap Paper Scissors Polka Dot Bag
I really liked this early on. It was a great portable way to store my
carts, books and overlays with the option to grab and go with ease.
Unfortunately at about 20-25 carts the books and overlays
started to become too bulky. The bag lost it's shape, it wouldn't stand
on it's own, the handle started to give… I just needed to move on.
Plano Flip Sider
Hated this from the get go! Unfortunately I packed up the family and
drove over 40 miles to pick up the last 3 units the bait and tackle shop had
on their shelf. Once I tried it out… 1) I wasn't about to immediately admit
that I obsessed over these boxes that I HAD to have only to find out how
much I hated them and 2) I wasn't about to pack up the family and drive
another 40 miles to return them. I didn't like that the carts sunk so deep you
couldn't just grab them… part of this storage means altering the depth of
every slot. I've heard of people using Kleenex, that thick foam used for
packaging, bubble wrap, toilet/tissue paper – sorry, not into it.
And you still needed to find a solution to organizing the books and overlays.
(P.S. – I have 2 around here somewhere that I'll
sell cheap if anyone wants them!!)